Mount Analog, a new shop and event space located at 5906 1/2 N. Figueroa St. in the Highland Park neighborhood of Los Angeles, specializing in new and used vinyl records, cassettes, books, cult and foreign films, posters, audio gear, clothing and original artwork, will celebrate its grand opening this Saturday, July 14 with a marathon 10-hour block of live performances and DJ sets from the likes of Mariachi El Bronx, Peaking Lights and Peanut Butter Wolf. The free festivities will kick off at noon with a Mount Analog DJ set and also feature performances by The Babies, John Wiese, Dogteeth, David Scott Stone, Zig Zags, Cold Showers, LA Vampires and DJ sets by Carlos Nino, Jimi Hey, Turquoise Wisdom, Pharaohs, Amanda Brown (100% Silk), Light in the Attic, TK Disco and Lovefingers. The celebration will carry over to Sunday with a special solo acoustic performance by Mark Burgess of The Chameleons and a shoegaze-inspired DJ set by Juan Mendez. 
Like its name suggests, vinyl records will be an integral focus for Mount Analog, the braindchild of music persons Mahssa Taghinia and Zane Landreth. It will carry a wide array of handpicked new and used music ranging from the esoteric to the eclectic, from crate digging treasures to the spectrum of dance and beat music that pervades L.A.'s club culture but isn't currently available for easy purchase in L.A. They will proudly stock a selection of audio equipment curated by NY-based Dijitalfix such as turntables, headphones, speakers and other audio gadgetry.
Mount Analog will also double as the U.S. headquarters, official shop and gallery of British label Finders Keepers Records and the American B-Music Collective. Additionally, it will serve as an event space for cutting edge musical and visual artists of today and yesterday, book signings and readings and film screenings and will host pop-ups. Mount Analog's vision is to become a community center where people can come discover new music, hang out, read a book, display their DJ skills, and socialize with like-minded people.
Mount Analog's interior was designed by lead creative designer Kyle Garner of Sit and Read, a  Brooklyn based creative agency, gallery, and retail space. Garner created a visually striking, fluid space that can be reconfigured to accommodate a variety of different set ups. The rustic industrial look was achieved by using reclaimed wood and steel and features clean, modern lines and a variety of original pieces handcrafted by Garner. One such piece he built is the shop's beautiful prototype Truss shelving system, an easy to reconfigure metal and wood structure, that he will put into production through Sit and Read later this year. The centerpiece of the store is undoubtedly the eye-popping 18-speaker soundsystem/front counter hybrid. "We spent a good two months driving around the valley and Burbank just going to thrift stores and buying as many speakers as we can find," Garner says. "It was basically two months of physical Tetris, rearranging the speakers into some configuration that would make sense. We had a lot of fun, it was an interesting design challenge. It's inspired by Jamaican soundsystem culture and since it's a bunch of different types of speakers it creates a really interesting sound spectrum."
Emblazoned on the wall behind the counter is Mount Analog's bold logo that peers down at you like an occultist eye. The shop is rounded out with professional grade vinyl and cassette listening stations positioned up front in the windows, a vintage leather Chesterfield sofa in the back, lights fashioned out of speakers, a clothing rack that will display a rotation selection of clothes from local and international designers and record crates fashioned from iron. Throughout the nearly 1200 sq ft. space there is an immense amount of care and detail poured into every aspect that shows this is not just a record store but a labor of love.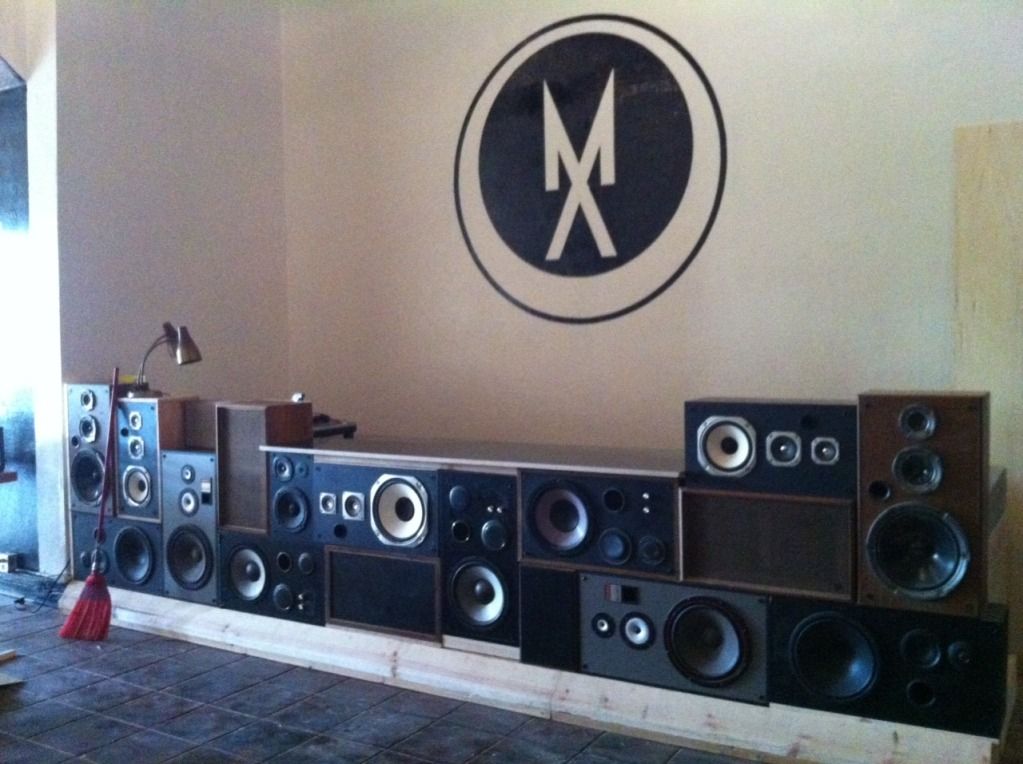 ***** SATURDAY JULY 14 *****
12noon – 10pm(ish)
* with free refreshments of the alcoholic kind
* food trucks (featuring the super tasty NO TOMATOES truck!)
***** PERFORMERS, DJs and SET TIMES ******
12-1 Mount Analog DJs (Jessica, Sarah, Ed Vertov)
1-130 Carlos Nino (DJ Set)
130-2 The Babies
2-230 John Wiese
230-245 Dogteeth
245-315 Jimi Hey (DJ set)
315-345 David Scott Stone
345-415 Turquoise Wisdom (DJ set)
415-445 Zig Zags
445-530 100% Silk DJ set (Pharaohs / Amanda)
530-6 Cold Showers
6-645 Peanut Butter Wolf
645-715 LA Vampires
715-8 Peaking Lights DJ set
8-845 Mariachi El Bronx
845-915 Light In the Attic DJ set
915-close Lovefingers + Travis 'TK' Disko
*****MOUNT ANALOG UPCOMING CALENDAR OF EVENTS*****
July 15 – Mark Burgess (The Chameleons) Solo Acoustic Performance + shoegaze DJ set by Jose Mendez
July 28 – Jonas Reinhardt
July 29 – Light in the Attic Records Country Funk BBQ
August 4 – Bronze
August 17 – Calvin Johnson (K Records)
September 11 – Boiler Room
Please follow and like us: