Brooklyn-based musical collective Railbird release new single "Jump Ship" today just ahead of a July residency at Pete's Candy Store. The brand new track features Sean Rowe (ANTI), the Cohen-esque baritone singer-songwriter whose voice is deeply soulful, and Sarah Barthel of Phantogram (Barsuk), whose breathy vocals are most often heard over booming electronic beats. It's no wonder this unlikely collaboration meets in the middle with Railbird – A "fringe" band accustom to divergent thinking.
Railbird, the brainchild of bandleader Sarah K. Pedinotti (SKP), is a solid cast of multi-instrumentalists whose sound crosses many genres and encompasses complex rhythms and swirling bursts of guitars and synths around Sarah's angelic voice and truly unique style of songwriting.
After self-releasing their debut album No One, Railbird was invited to perform at SXSW, CMJ, and the 4th Annual Roots Picnic in Philly. No One, co-produced by Jeremy Gustin and SKP in Queens and upstate NY, is a conceptual album that took over one year to complete. The album is nuanced, dark, rhythmic, and haunting and draws comparisons to Bjork, Kate Bush, Grizzly Bear, and Dirty Projectors.
Railbird is currently recording demos and rehearsing in a cabin at Lake George. Catch the band for their summer residency each Wednesday in July at Pete's Candy Store. 10pm.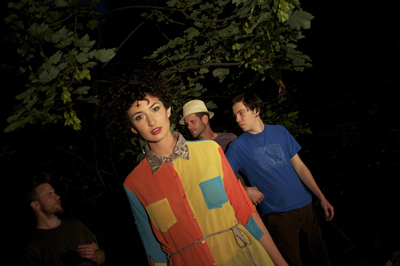 Please follow and like us: