"Mystery Girl"– a glam-tinged rock number recorded with a sense of wide-eyed abandon. It's a catchy, electric guitar-driven track that's so energetic you have to wonder how overwhelming the live performance must be."
— RCRD LBL
"The guitars are biting, the lyrics are melodramatic, and the track (Mystery Girl) has all the inner workings of an indie classic."
— MUCH MUSIC
"Somewhere between the 1950s teen doo-wop tracks that your grandparents swapped saliva to and the Clash's "Give 'Em Enough Rope" lies the sound of Romans."
 — RED BULL USA
"We can't seem to take this one (Mystery Girl) off repeat."
— THE INDIE MACHINE, CANADA
"Paring the best parts of 50's Doo Wop, 60's Brit-Rock, and 70's Glam, this song is a hand clapping, soul shaking good time."
—EAT SLEEP BREATHE MUSIC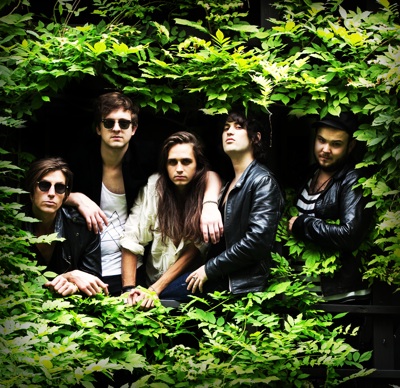 With a healthy respect for the riffs of yesteryear coupled with sights set firmly on a very bright future, Romans are ready to conquer the world one fan at a time. Bonded together by Jeremy Fury (Singer for Ohio-based band, We Are the Fury) and Craig Bonich (Guitarist of Head Automatica and Jaguar Love), Romans strive for a timeless sound without boundaries, but with a whole heap of swagger, attitude and straight out sex. Rock n Roll never went anywhere, but if it was hiding in a corner in this modern age of synthetic sounds, laptops and ipads, Romans are here to remind you just how much god damn FUN guitars, hairstyles, tight jeans and cuban heels can be.
Romans' second single "Let's Get It On" (produced by Tony Verderosa & Romans), following the smooth and upbeat "Mystery Girl" is currently being featured in the latest Royal Caribbean advertisement (running in the UK & Ireland). Their latest campaign, "The Sea is Calling," is a fast and seamlessly integrated montage of onboard action driven forward by "Let's Get It On." Featuring buzzing guitars, brash vocals, and in-your-face rock rhythms of David Gagliardi, bassist Bryan Percivall and drummer Oskar Haggdahl, the track is an ideal complement to the youthful energy of "The Sea is Calling."
A refreshing twist on current Rock n' Roll, the band plays with 100% heart and soul. Incorporating the best parts of 50's Doo Wop, 60's Brit-Rock, and 70's Glam, Romans bring together an array of sounds to create the perfect blend of musical nirvana. With elements of The Rolling Stones and a nod to T-Rex and Ziggy Stardust era David Bowie, there is no denying that Romans will appeal to the masses.
"If you go far enough into the future and look back at a specific period from the past, everything seems to blend together," Fury says.
Give a listen to "Mystery Girl" and "Let's Get It On" which will have you craving more in a heartbeat.
This is only the beginning for Romans.  Buckle up. It's going to be one hell of a ride.
TOUR DATES
11/3 – Bowery Electric – 8PM
LINKS
Please follow and like us: